Digital Learning: Are you ready for your next generation students or learners?
Executive Summary
Education institutes can create significant value for the learner, by leveraging digital learning using a range of approaches, from digitally enabling the self learning process (out of classroom), allowing higher level of interaction between the teacher and learner and creating unique goal based learning paths for the student, based on individual learning behavior.
India crossed 1 billion mobile subscribers in May 2015. India and China are the only 2 countries with more that 1 billion mobile subscribers. India is all set to over take US in the smartphone unit sales in year 2016. It is ranked third in the world as the smartphone sales after China and US. There are over 500 million smartphone users China, compare to 150 smartphone users in India. India now has the fastest growing smartphone user base, which is forecast to increase from current 15% of the mobile subscriber to over 47% in year 2020.
India is undergoing a "digital revolution", thanks to dropping smartphone prices, bandwidth costs, sky rocketing growth in app based services and focus of the government on digitalization. The launch of "Digital India" initiative, to bring the delivery of e-governance services, financial healthcare and education services to the masses through the digital platform, is leading to the "digital revolution".
The disruption caused by digitization, can create or destroy significant value for all industries, including education sector, depending on the openness of the educational institutes, on how they respond to shifting learner or consumer behavior and other trends. "Uberization" of most services, urge for instant access using mobile devices, new habit of being on-line and staying connected – provides very big opportunity for the educational institutes, to create new "student-centric" learning experience and offerings.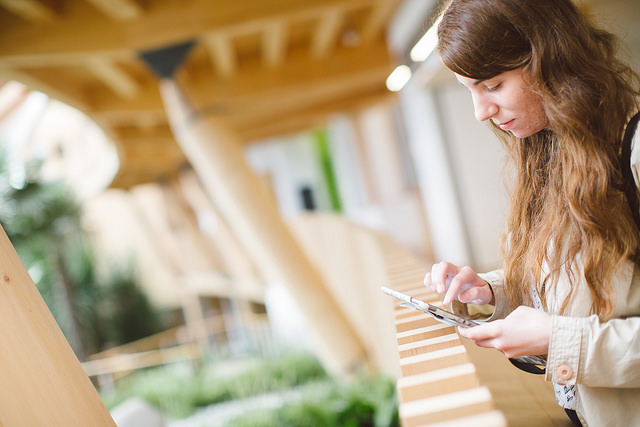 Use of mobile devices as tool for self learning is on a rise. More and more students are leveraging social media apps for sharing content for e.g. class notes, images of the relevant pages of reference books etc. etc., along with day – to – day activities of interest. The idea of any place, any time and any device learning is real now. The key question, how do colleges and education institute leverage this digital learning platform, to assist the students in the learning process?
Changing Student behavior
Over the past few years it is evident that the usage of mobile technology has changed how students communicate, how they manage time and how they potentially learn. The mobile technology comes with unique capabilities – including connectivity, camera, sensors and GPS – all of which have potential to enrich the the learning experience. Students are no longer limited by the geographical boundaries of the classroom or educational institutes – for example they can now record raw observation and analyze the results on the location. The mobile technology allows to discuss the issues instantaneously with colleagues, classmates and teachers. The mobile platform thus, opens up a completely new learning platform ready for collaboration and also helps to reach out to subject matter experts from the industry and academia with equal ease.
The adoption of digital learning platform based using mobile technologies is only going to accelerate, with young digitally savvy generation entering the educational institutes. Currently the use of mobile technology for learning is not as widespread, as the device itself. It is estimated that only 50% of the students use the mobile devices for doing the college work, where as over 90% of the students own mobile devices.
Effective use of mobile technology is dependent on student's literacy skills, including the ability to access, manage and evaluate digital content. Students might take plenty of pictures using the mobile phone cameras, but there is no digital learning platform that helps them to put these pictures to meaningful learning experience. However, the digital learning platform, which the students value for learning is not good enough on it's own, they look for the educational institutes, teachers and instructors for opportunities and encouragement to use them.
Four shifts in student behavior's signal that the time for digital learning platform is approaching:
Student's favorable attitude towards technology: Mobile technology is embedded into student's lives and students are generally inclined to use technology. It is dominantly used as a connector with peer students and faculties. There is growing usage of on-line search engines, free on-line content videos serving as instant platform for cognitive learning.
Digital books – preference shift: Younger generations are equally comfortable reading using digital books, as the physical printed texted book. The digitization of the reference materials and availability of content in digital formats has significantly improved over the past years. Popularity of >5inch screen smartphone with LTE connectivity and >8inch tablets, makes reading from mobile device much more feasible. All of these trends manifests in students using mobile technology as the preferred platform for accessing the digital books.
Improved sharing functionality of social media apps: Students are already using social media apps as a connector with other student and faculties. Of late, most of the social media message application, have upgraded functionality and now allow to share a files and videos as attachments. This makes sharing of relevant content extremely fast and easy amongst the students and peer learners.
Role of colleges, instructors and teachers: Colleges value the use of learning management system (LMS). Currently the LMS is focused around the teachers or instructors uploading study material on the LMS portal, based on a traditional desktop based access. The access of such LMS systems for the students means logging on the college network using one's desktop or laptops, with traditional ways of sharing the content via mails. New generation of learners or students now expect, mobile friendly, highly personalized and engaging LMS experience.
Implications for educational institutes or colleges
Educational institutes, which are first to adopt "student centric" digital learning platforms, based on mobile technology, will create significant value for their learners, with new services based offerings. Students will be quick to adopt such platforms, as the use of the mobile applications, comes naturally to these new young generation of learners. Educational institutes or colleges, depending on the starting position, will be able to differentiate themselves from other peer colleges by significantly achieving better learning outcomes.
Digital learning platform, will provide a seamless integration interface for the institute's valuable ecosystem partner like content providers, publishers, academician and most importantly the industry. The industry can showcase their technologies through such mobile technology based learning platforms – significantly improving the awareness of new developments the industry has achieved and link it with the application of concepts and theory that students learn during the semesters or academic year.
Colleges have now a unique way of staying connected with the students, based on utility value of the digital learning platform, which the students use regularly, gradually forming into habit like many of the social media app, but this one for enhancing the learning experience.
Given these trends, we expect educational institutes and colleges to rapidly adopt mobile technology based, digital learning platform, that allows colleges to have their own dedicated mobile engagement platform between learners, students, teachers, instructors, content providers and industry.
It is time for action now.
It is evident that new generations are wanting to use mobile technology for a meaningful learning experience. There is a need for "integrated single interface", mobile technology based, digital learning platform – which the colleges use to engage with the students. Students are expecting educational institutes and colleges to provide a mobile friendly, highly personalized learning environment. The use of cognitive systems integrated with the digital learning platform, can help to provide a very personalized learning path for individual student, based on their individual learning behaviors. The platform will also help track the progress that the learning is making and help to provide constructive feedback and encourage the learner or students to excel in their areas of interests. The number of smartphone users is expect to grow 3 to 4 times in till 2020, in India. The mobile technology enabled digital learning platform, can serve as a very effective tool to connect with this very large consumer base, while creating a personalized learning experience. The digital learning platform also allows to kept the consumers i.e. learner or students updated with relevant content, along with the regular courseware for which the students have enrolled in their respective courses and campuses. Time is right for a digitization of the educational institutes and colleges, for sublime mobile based learning experience.